Rajath Riding His Way Through Ladakh with Thrillophilia!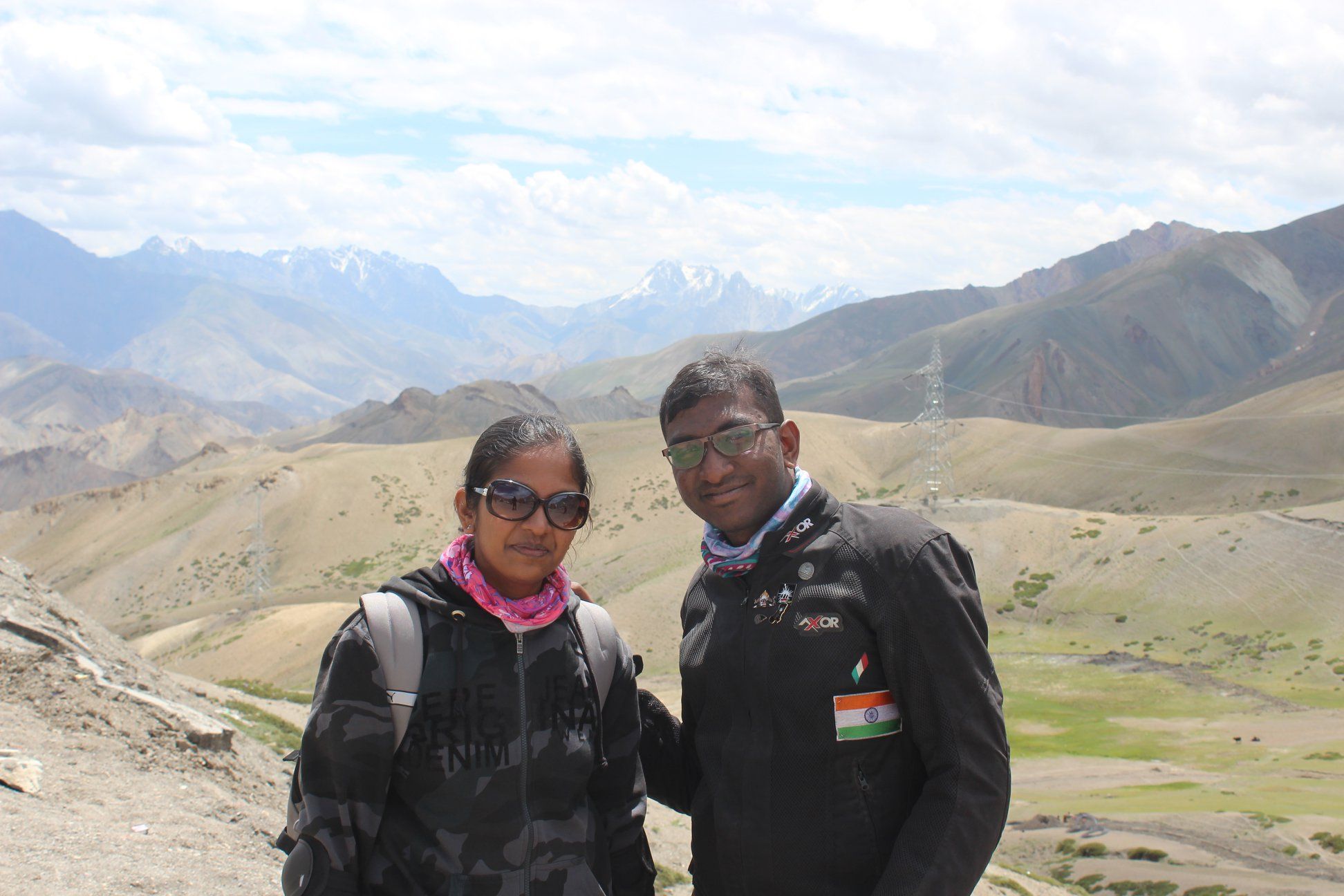 "I'm in love with places I've never been to and humans I've never met".
There are those who view travel as a way of life and those who consider it as a hobby. A great many people travel, trek, climb mountains, explore cultures, cross borders, and cross the sea, yet their eyes shine each time they prepare to embark on a new journey.
Our Snow Traveler
"Traveling is not simply an experience, but can be a wonderful learning experience in many respects."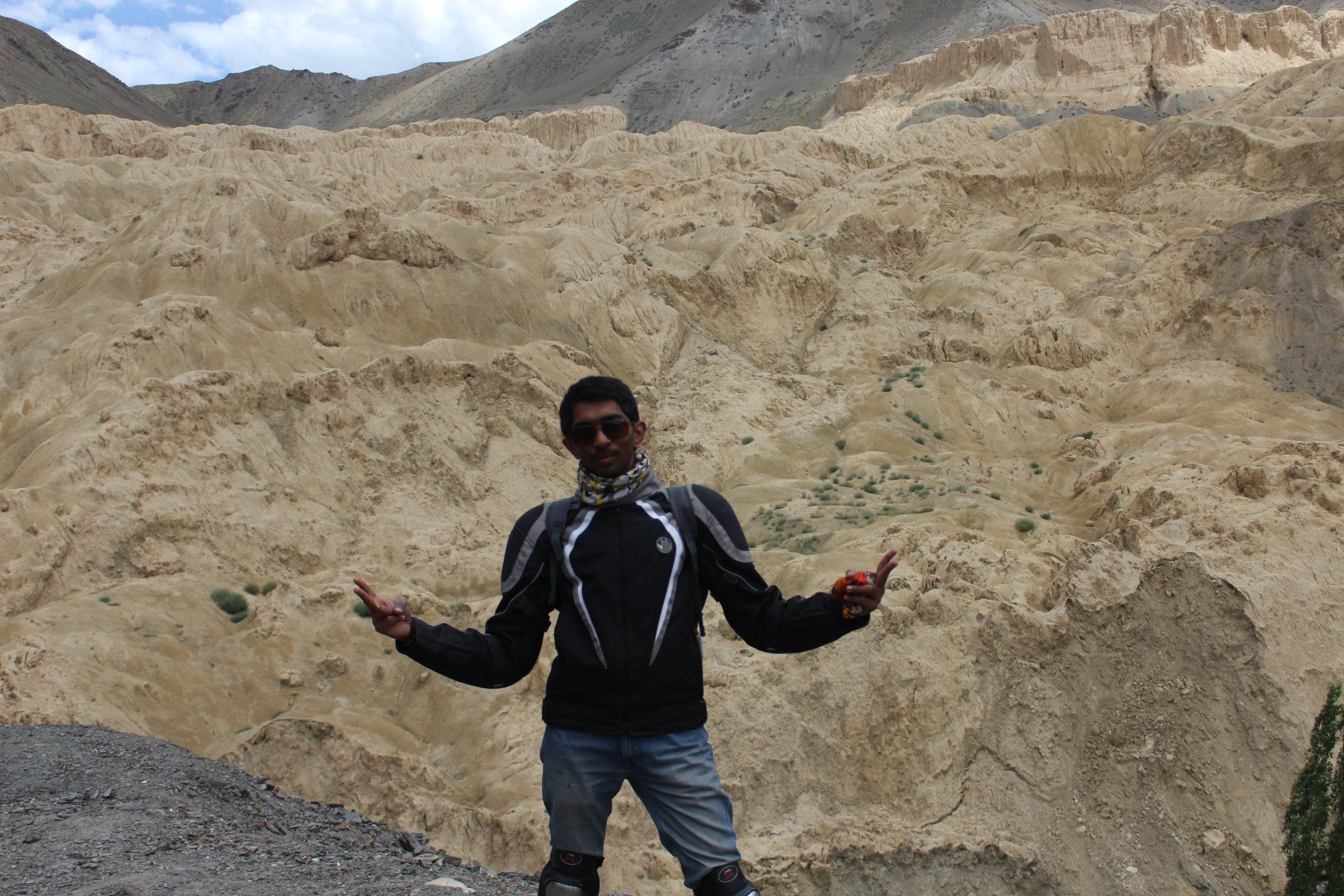 Rajath Karthik, a native of Mysore now residing in Bangalore, tells an interesting story of how he became addicted to the world of travel. Snow was the driving force behind his decision to become a traveler.
"I always wanted to play with snow. As a means of realizing my dream, I embarked on a journey that turned out to be an adventure as well. I began traveling at a young age and have continued to do so till date."
From No To Yes!
As they say, Leh-Ladakh calls the nomads themselves, the same was true for Rajath. The purpose for him taking on the Leh-Ladakh Bike trip with Thrillophilia is that "Although I have never wanted to go on the bike for adventure, I was compelled to say yes after seeing all the pictures and video clips on YouTube", he explains.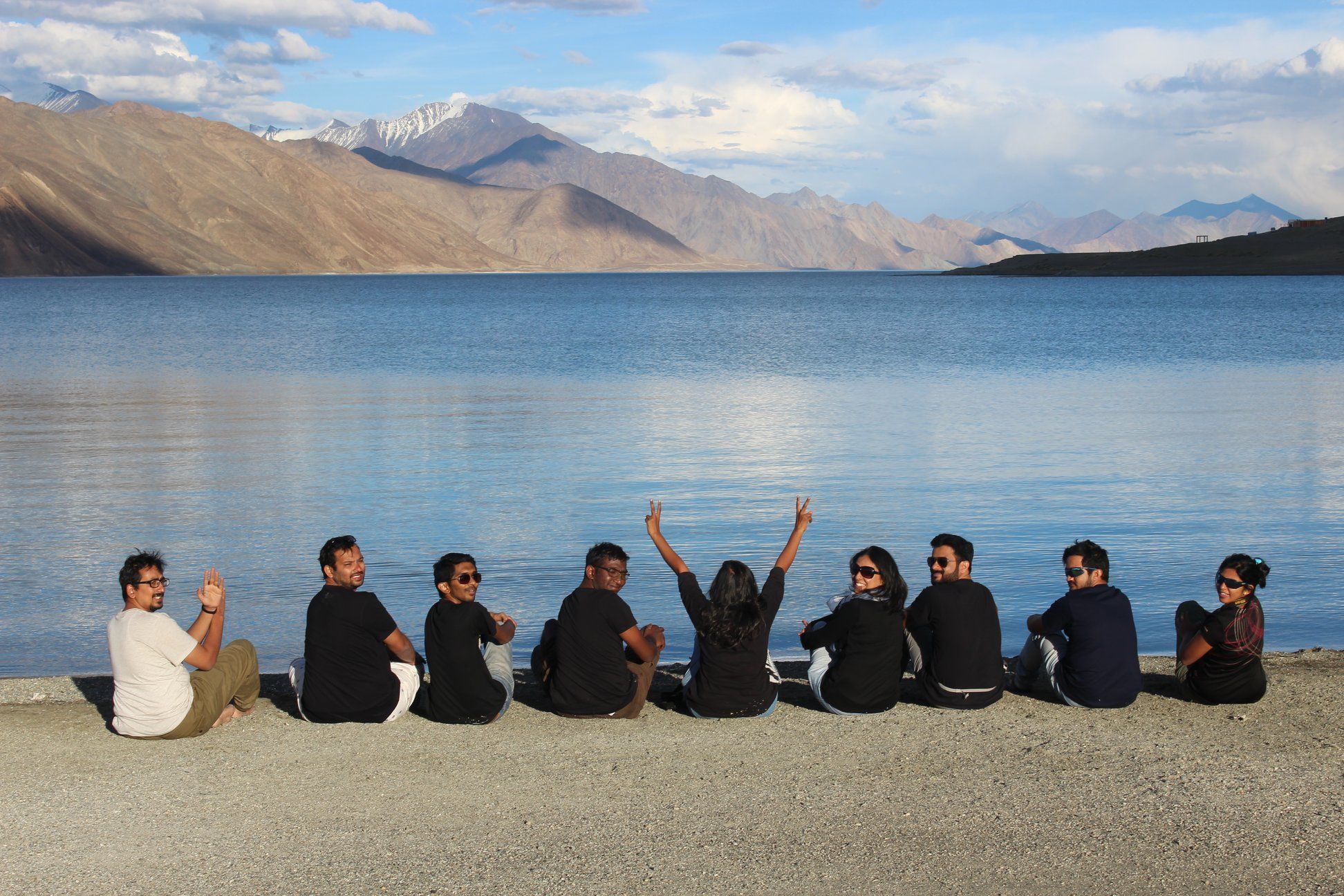 The 10-person party was composed of Rajath and his cousins, as well as some of his friends, making of an adventurous group on this trip. The group comprising Rajath's travel plans comprised 17 individuals, seven of whom were new to him and his travel group. "We began bonding when we discovered that five of the participants were from different parts of Karnataka as well. After learning that they worked in Bangalore, the last two also joined the party. My experience was pleasant as all of my travel companions were from the same state, which made it easier for us to get along quickly."
Let's Go!
As majestic as it may appear, Leh-Ladakh, the Land of High Passes, also entails the necessity that you are informed of the challenges you will face while on your trip. Every aspect of this trip required preparation. "I began by collecting basic information, such as how many individuals will be traveling, when will we leave, and who would be approached to obtain the tour package. At the end of March 2017, the number of employees increased to seven including myself. The first thing we did was to conduct extensive research on what all places we wanted to visit, which route we wanted to follow, whether we wished to rent bikes or bring our own and how to select the best dates to travel. In spite of searching for more than two weeks, we decided to book a bike rental package with Thrillophilia as we found it to be the most cost-effective option and their travel dates suited our schedules. There were 10 of us including myself, my cousins, and my friends who were all planning on departing Bengaluru on 19 July."
Ladakh is Calling!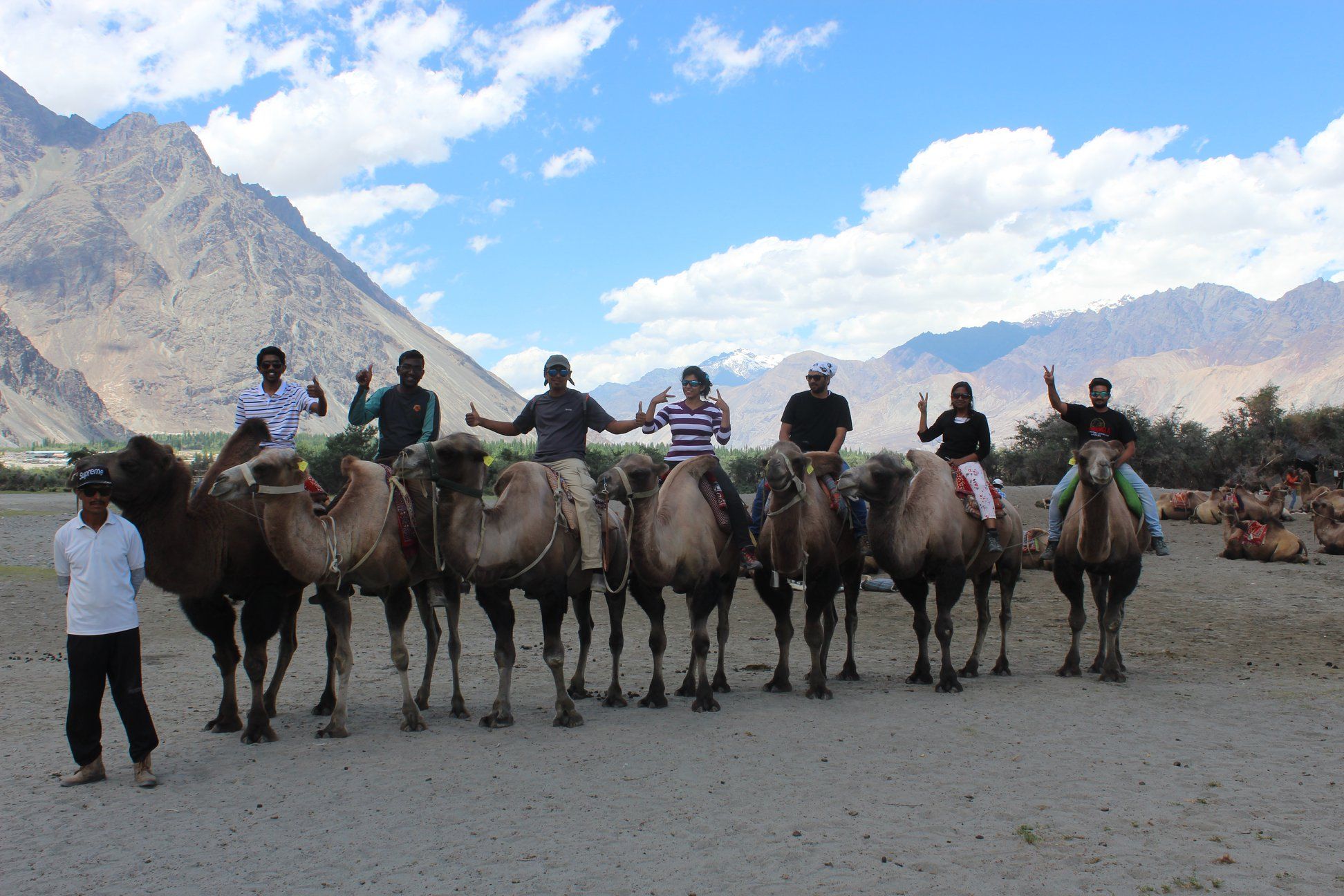 A group of 17 travelers led by Rajath undertook this trip in July 2017 as a member of what he refers to, his extended family. Rajath had beautifully described the following experiences in his own words:
Day 1
"On account of all the excitement, none of us got a peaceful night's rest that night or reached the airport on time. In addition to our clothes, we each had two pieces of luggage; one containing our bike gear and another containing all our packed meals since lunch was not included in the package. Eventually, we reached Jammu & Kashmir. In the early afternoon, after arriving at the hotel and having difficulty finding vegetarian fare for lunch, we took a boat ride on the famous Dal Lake for a few hours and went shopping before returning to the hotel. As the day came to an end, we were required to complete some formalities and sign some forms. There were also briefings for our Day 1 biking adventure. I was eager and nervous as this was the first time I had ridden a bike for such a prolonged period of time and for the responsibilities of the remainder of the nine members".
Also Read: 'Just Live In The Moment'- A Philosophy Truly Followed By Parul During Her Kamshet Trip!
Day 2
"After all the instructions from the guide, we started our journey at 8:02 a.m. sharp from Srinagar to Kargil. The ride began adjacent to Dal Lake and ended just outside Srinagar. We all enjoyed the magnificent view of the lake. On the way, we stopped for food and took lots of pictures while on the way. Several hours later, we encountered our first river crossing. The Amarnath Shrine Basecamp immediately greeted us as we crossed the river, and we then entered Drass, the second coldest inhabited place on earth. Soon after, the green surroundings began to fade away, and all we could see was rocky hills as we continued our journey. Upon entering the Kargil region, we were required to stop for inspection at a military checkpoint. Our first stop after lunch was the Kargil War Memorial, which was high on my bucket list.
Day 3
"To reach Leh-Ladakh, we had approximately 250 kilometers of ride. My experience was similar to riding a bicycle in the Great Canyons of the United States during the first few hours. Our trip began with a stop at Lamayuru Monastery, one of the oldest monasteries in the region. In the afternoon, we began our journey from Srinagar to Leh via the Border Roads Organization (BRO). The road from Srinagar to Leh was just breathtaking and BRO deserves praise for making our trip a memorable one. In addition, on one curve, while I was riding in 2nd gear, I had to force the bike into a turn using the 1st gear as I was near the Magnetic Hills. Upon entering Leh, I was delighted to see the 'Welcome to Leh' board and was greeted by an impressive view alongside many military camps. Upon arrival at our hotel, we prepared for our next day, for which we intended to do some sightseeing in the local area on our own."
Day 4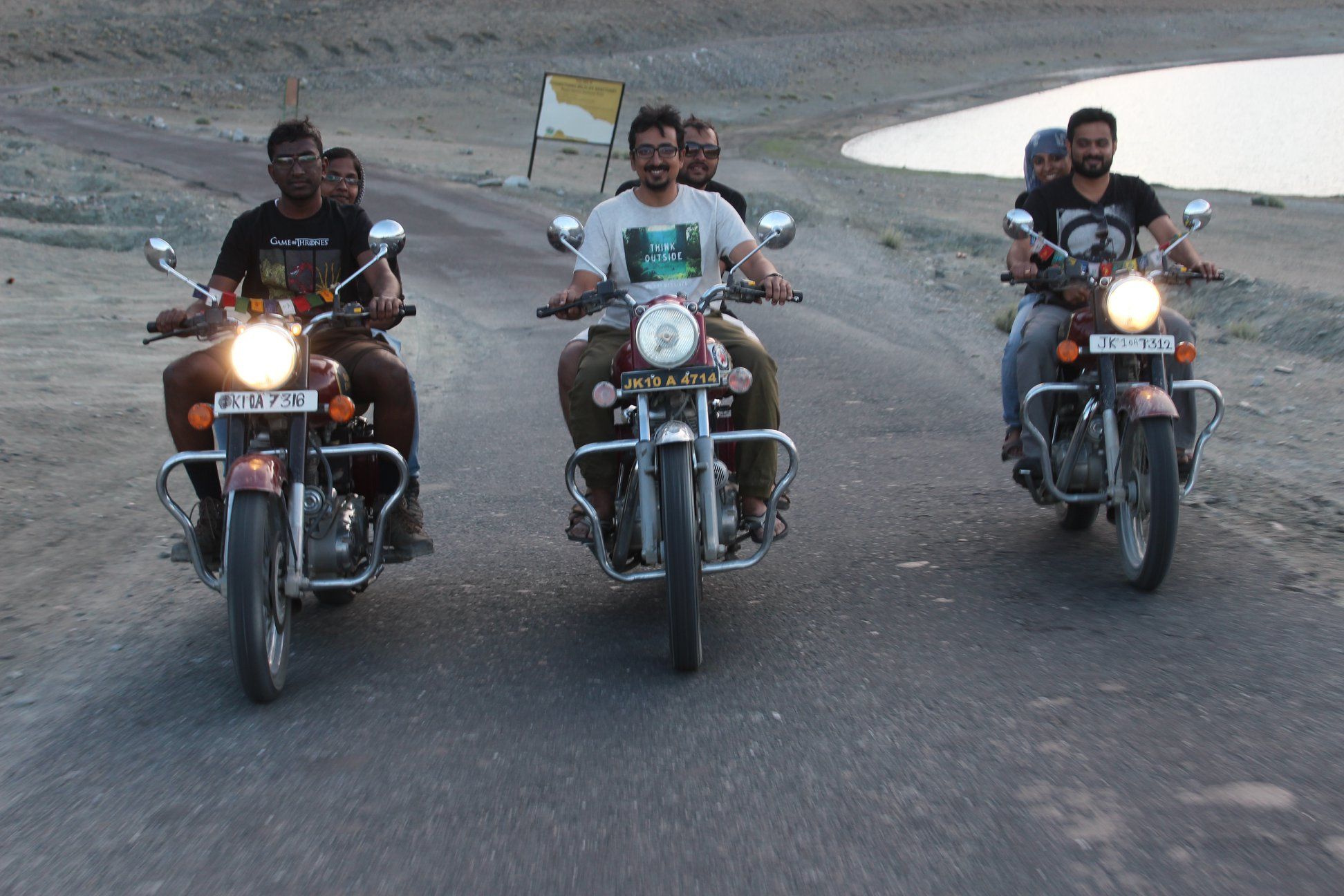 "We visited Hemis Monastery, Druk Padma Karpo School (Rancho/3 Idiots School), Leh Palace, Thiksey Gompa and Shanti Stupa as part of the local sightseeing. All these monasteries provided us with valuable information about the history of Leh and Ladakh. The Hall of Fame is a museum that provides information regarding all the wars fought by India, the lifestyle of the soldiers, the equipment used by the Indian and the enemy armies, as well as information about the flora and fauna in this area and a memorial to the Indian soldiers. In addition, we tasted many traditional dishes like Tigmo, Thukpa, Thenktuk, and Momo that were unique to this region. We ended our day with some shopping in the market before watching a breathtaking sunset from Shanti Stupa in Leh before returning to the hotel."
Suggested Read: Adventurous Couple Traveling Through Majestic Valleys Of Ladakh!
Day 5
"Our destination was Pangong Lake, a scenic spot that became popular after it was featured in the climax of the movie '3 Idiots'. Pangong Lake was accessible via a road that was under construction, meaning we had to ride the bike on a muddy road as well as over large stones, which was an off-road biking experience. Our first glimpse of snow came after approximately 25 hairpin curves as we approached the Mighty Changla Pass, the world's second highest pass. When we visited the shooting location of "Jab Tak Hai Jaan" movie, we frequently crossed streams and saw water as well as marmots, Himalayan Yaks, and Himalayan goats. Finally, we arrived at the Pangong Lake campsite, and when I opened the tent flap, I was able to take in the whole lake view. Our day ended with stargazing where we witnessed many shooting stars."
Day 6
"Our plan was to travel from Leh to Nubra Valley, and then travel back the next day to Leh. We received some unfortunate news: there was a major landslide in the path between Pangong Lake and Nubra Valley. It was suggested by the BRO that clearing the road would take a significant amount of time, so our guide altered the plan and it was decided to return to Leh. Due to our familiarity with the road, it took us a lot less time to reach Leh in comparison to Pangong Lake. Based on both the condition of our bikes as well as the road conditions, I found this ride to be the most challenging of the entire trip. By 3 pm we reached Leh, so we had the rest of the day to ourselves."
Day 7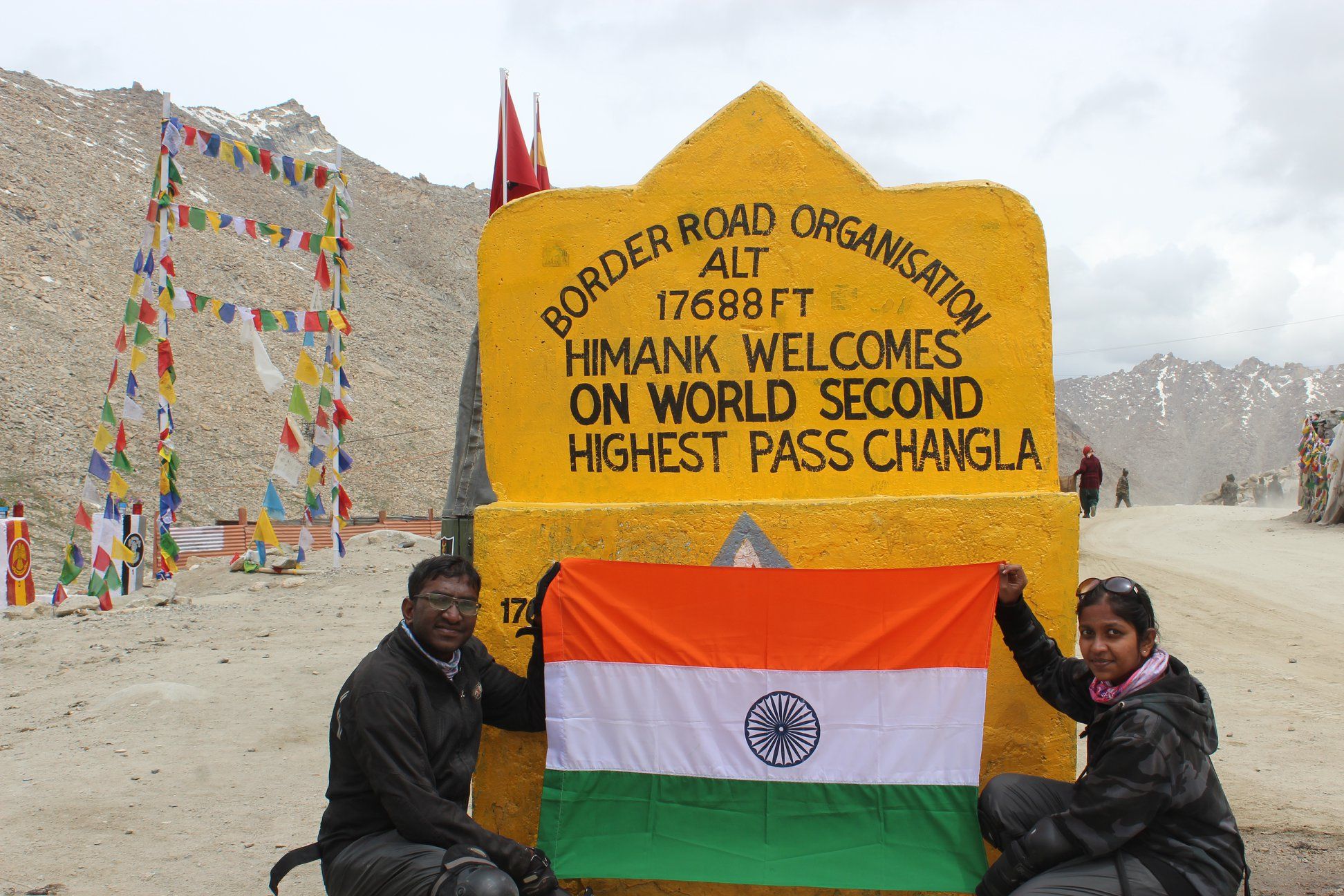 "The decision was made to travel to the Nubra Valley and return to Leh via the Khardung La pass. The total distance was 320 kilometers, and it would take 10 hours of biking to complete the journey. In light of the late sunset and the fact that there is still daylight until 7:30 PM, we decided to take the risk. In contrast, the road from Khardungla to Nubra Valley was excellent whereas the route for Khardungla was off-road in nature. It was an extremely difficult road, but we eventually made it to the top. As a result of riding on the highest motorable road in the world we did not have any limits to our happiness and everyone felt that victory feeling of riding the motorcycle. This place was well worth the effort that was put into reaching it. As we traveled towards Nubra Valley, we stopped for a short photo session and rested. We reached Nubra by 10:30 a.m. The valley is also known for double-humped camel rides, which we made certain to experience. After lunch, we began our return journey at 1 p.m. It was a short trip for all members of our team. Our group reached Leh prior to 5 p.m. and it was a successful adventure."
Day 8
"My final experience in Leh-Ladakh had finally come to an end and I was able to leave the city with a satisfied mind because I had achieved everything that I had expected. By 9 a.m., we had arrived at Sarchu, our destination for the day. Upon approaching Tanglang La Pass, which is the second highest motorable pass in the world, we began to encounter freezing conditions. Following lunch, we began the descent through Gata Loops, but the skies were dark. For us to win the race between the dark clouds and ourselves in the 22 hairpins of the Gata Loops, we had to employ all our previous cycling experience from the past week. As we descended the loops, we were surrounded by greenery for the first time since Kargil."
Day 9
"We had a very short distance to cover on this particular day, 90 kilometers, so we began the trip a bit later than we usually would. Upon crossing the Barchala Pass, two stops were made, the first at Deepak Tal Lake and the second at Suraj Tal Lake. Each of these lakes was very small and beautiful. At this point, we had crossed the Jammu & Kashmir border and entered Himachal Pradesh. By afternoon, we had reached Jispa and our tents".
Day 10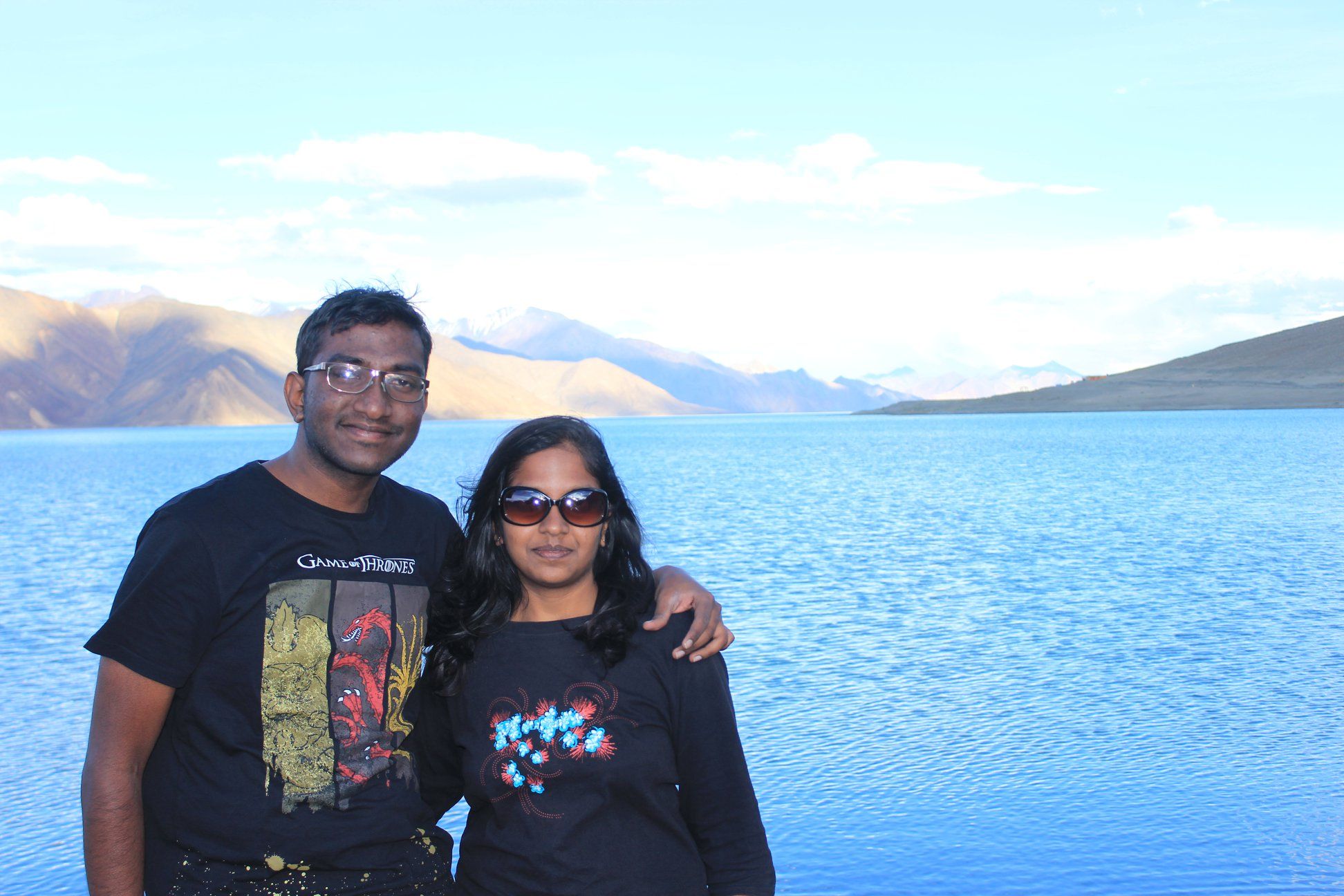 "Although it was the last day of the trip, we were still looking forward to the Rohtang Pass as we had it on our itinerary for today. Since it was our last day, we drove slowly and enjoyed the ride. As a result of the pleasant weather, we were able to enjoy the ride. Keylong served as a rest stop and the road from here was once again challenging in a different way. Several times, we had to request that the pillion riders walk short distances due to a slushy road. As we approached the Rohtang Pass, we faced additional difficulties due to fog. The visibility was less than a meter. The roads narrowed even more as we began to descend, making it very difficult to ride. The soldiers on the road provided excellent assistance to all the tourist vehicles and motorcycle riders. Their assistance enabled us to safely reach our final destination, Manali, at the end of our trip.  A beautiful hotel was provided for our accommodation in Manali."
Check Out: Vasundhara's Last Minute Trip To Andaman With Thrillophilia!
Day 11
"This was the last day of the entire trip. There was no wake-up call, no reporting time, no riding plans, nothing. We awoke late as usual. We toured Manali and enjoyed a delicious meal before shopping in the afternoon."
Well, when asked what he recalls of his experience, Rajath says, "I visited every place on my bucket list, including Pangong Lake, Khardung La, Kargil, Nubra Valley, and Rohtang Pass." The highlight of my trip, however, was riding my bike along the world's highest motorable road. From Srinagar to Manali, I had the opportunity to observe the difference in the climate, people, cultures, and nature.``