Spain To Ladakh-Tomas First Adventurous Bike Trip With Thrillophilia!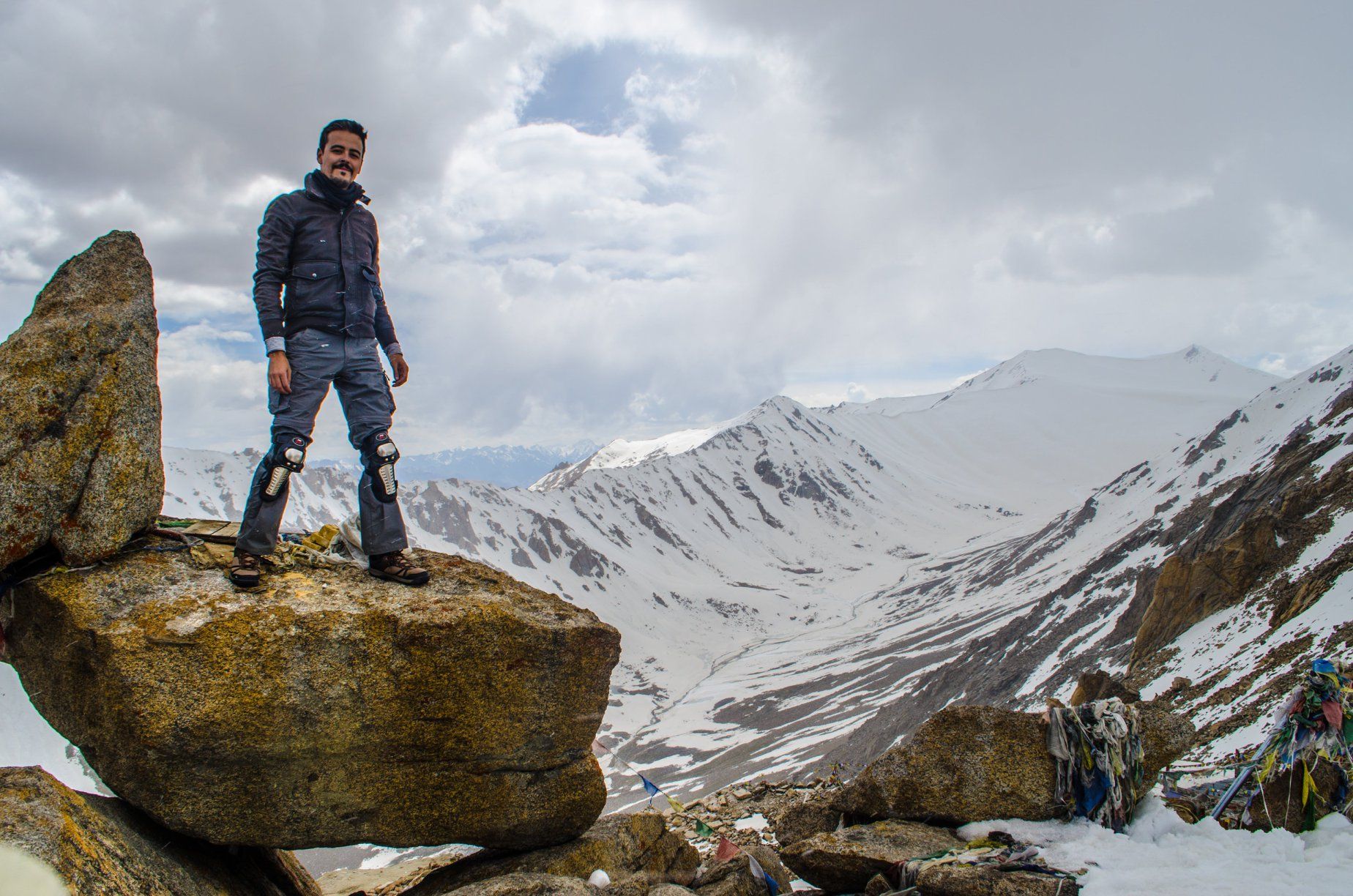 "If I had to sum up my bike trip to Ladakh in one word, I would say intense. In every sense of the term!"
The Spanish digital nomad Tomás has been traveling all the time for the last several years. His travels have taken him to over 60 countries, and he is a true adrenaline junkie!
What makes us say that? Skydiver, skipper, and scuba diver, Tomás is licensed in all three. As if these thrilling adventures weren't enough to satisfy his adrenaline rush, the Spanish nomad decided to try motorbiking on Hanoi's streets, Vietnam!
The 'Leh Ladakh Motorbike Trip' was what he longed for in India and had been dreaming of for a long time! Thrillophilia took Tomás Arribas Simón on this trip in the summer of 2017 during June.
According to him, "After learning about Ladakh and Khardung La, the world's highest motorable pass, I was certain this was a trip I wanted to take. I couldn't miss this opportunity, come what may!"
It is fair to say that this traveller is an adrenaline junkie in the true sense of the term.
An Effortless Experience With Thrillophilia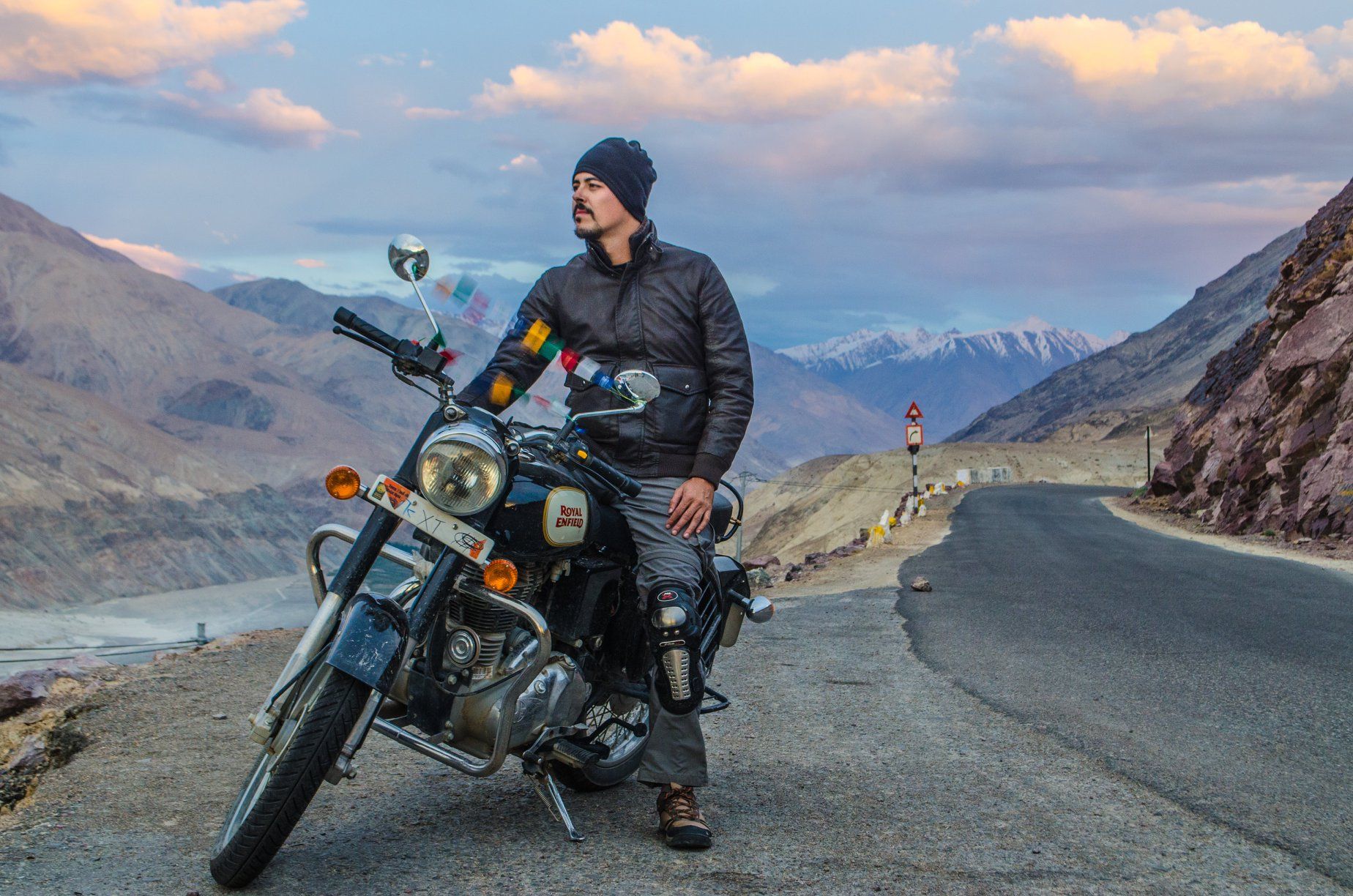 Tomas recounts his experiences regarding Thrillophilia and shares-
"I did extensive research, contacting numerous travel agencies to find a group at a reasonable price. I was surprised, however, to learn that they all quoted me a significantly higher price than I initially anticipated since I am a non-Indian."
"Thrillophilia was the only travel agency that did not try to rip me off because I am not an Indian citizen. My price was the same as that of my companions. Consequently, I chose to book with them."
"The communications with Thrillophilia staff were prompt and pleasant. I received the final details concerning the tour operator around two weeks before the trip's start date. The excitement started building up! We were going on this trip!"
Early Days
"Finally, the trip date arrived! Group members were supposed to meet at a metro station in Delhi to take the Volvo to Manali Valley of the Gods. I was able to meet the rest of my traveling companions once I arrived. It was predominantly Bangaloreans and other people from other parts of India. I was the only foreigner. Everyone, though, proved to be great travel companions. I enjoyed my trip on the Volvo bus, even seeing Baahubali 2 on the TV for entertainment, as I had never seen the movie before. We finally made it to Manali the following morning after a long trip."
At Manali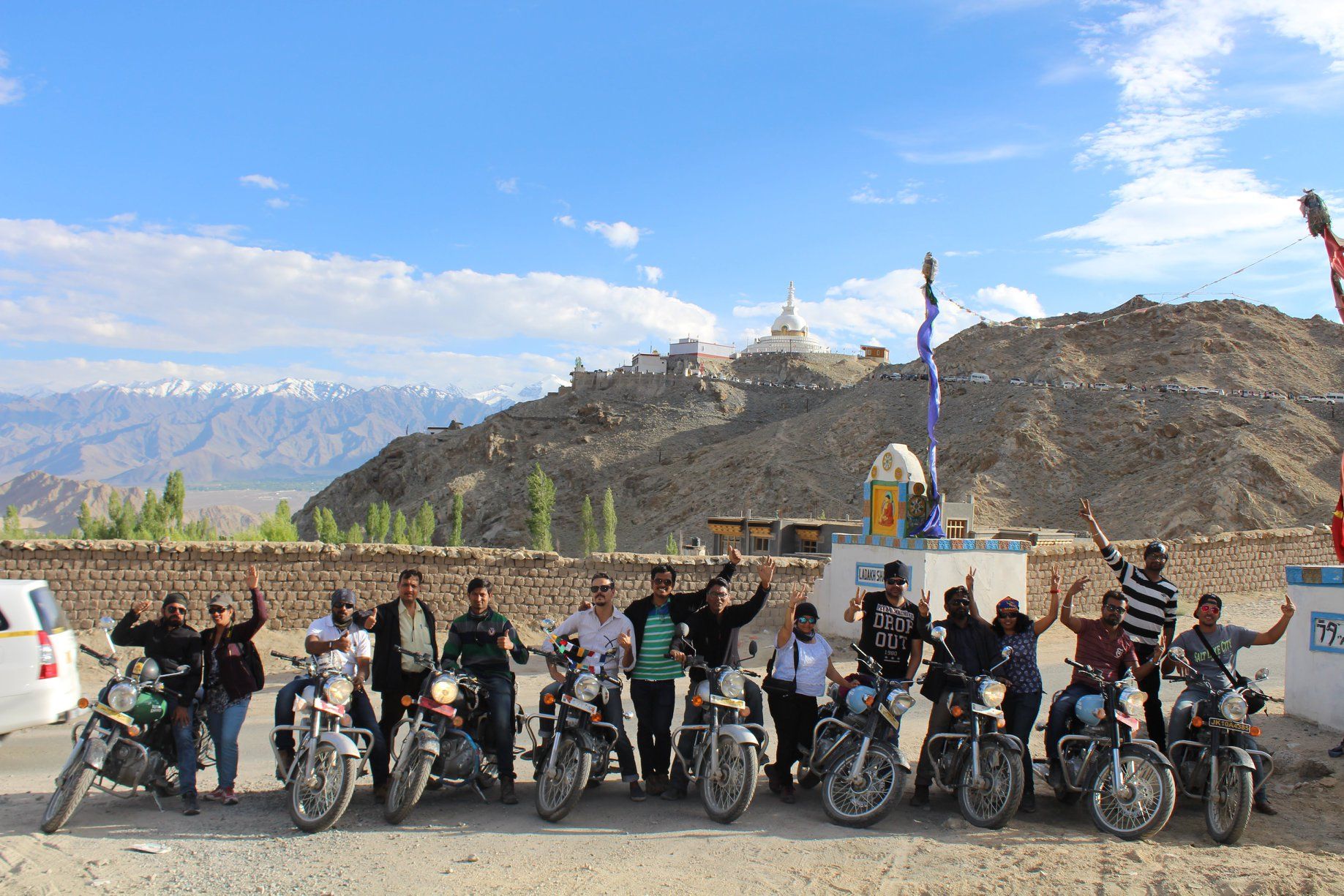 "Our original itinerary called for getting our bikes in Manali to test ride them and see the area. Still, due to problems with the biker unions in Leh and Manali, we could only get them in Sarchu, a camp between Leh and Manali.
We did a little sightseeing on foot in Manali, visiting the wooden temple and hot springs of Vashisht and the magical Jogini waterfalls. The trout sizzler I had at Freedom Cafe was one of my favorite meals of the entire trip.
On our second day in Manali, we took a Tempo minibus to cross over the Rohtang Pass and get to our campsite at Sarchu. From Sarchu, we took our motorbikes. We stopped at Snow Point during our journey, which was crowded with people playing in the snow! There was quite a spectacle to behold!
Having reached Sarchu late at night, we slept in our tents after dinner, on one of the trip's coldest nights. There were proper beds and attached bathrooms in the tents, making for a comfortable place to sleep."
Also Read: Dr. Kalpesh's Memorable Family Trip To Chopta Chandrishila With Thrillophilia!
Let's Ride!
"The following day, we rode our bikes for the first time! I just got a nice black Royal Enfield 350 Classic, with 700 km on it! The Royal Enfield was my first big bike; I had only ridden 125cc bikes and scooters earlier so I was a bit anxious. Riding was surprisingly easy once familiar with gear shifting and clutch.
Our bikes were accompanied by two support vehicles, a mechanic, a guide, and a driver. Initially, my motorcycle had problems, but our mechanics were able to resolve it.
The contract stated that we would need to deposit a sum of 10000 rupees for the bike, but we were never asked for this."
To Leh
"After several delays, we finally reached the land of high passes, Leh! Our first challenge was navigating 21 hairpin bends on the Gata Loops. Then we rode to Pangong. Our bodies were hurting from the altitude, so we took a nap to recuperate and acclimatize.
We passed through plains in the first part of the trek after Pangong. In good conditions, it was the first time we were able to ride our bikes in full-throttle, reaching speeds of 100 km/h on a completely flat road. It was both exciting and exhilarating!"
A Tough Ride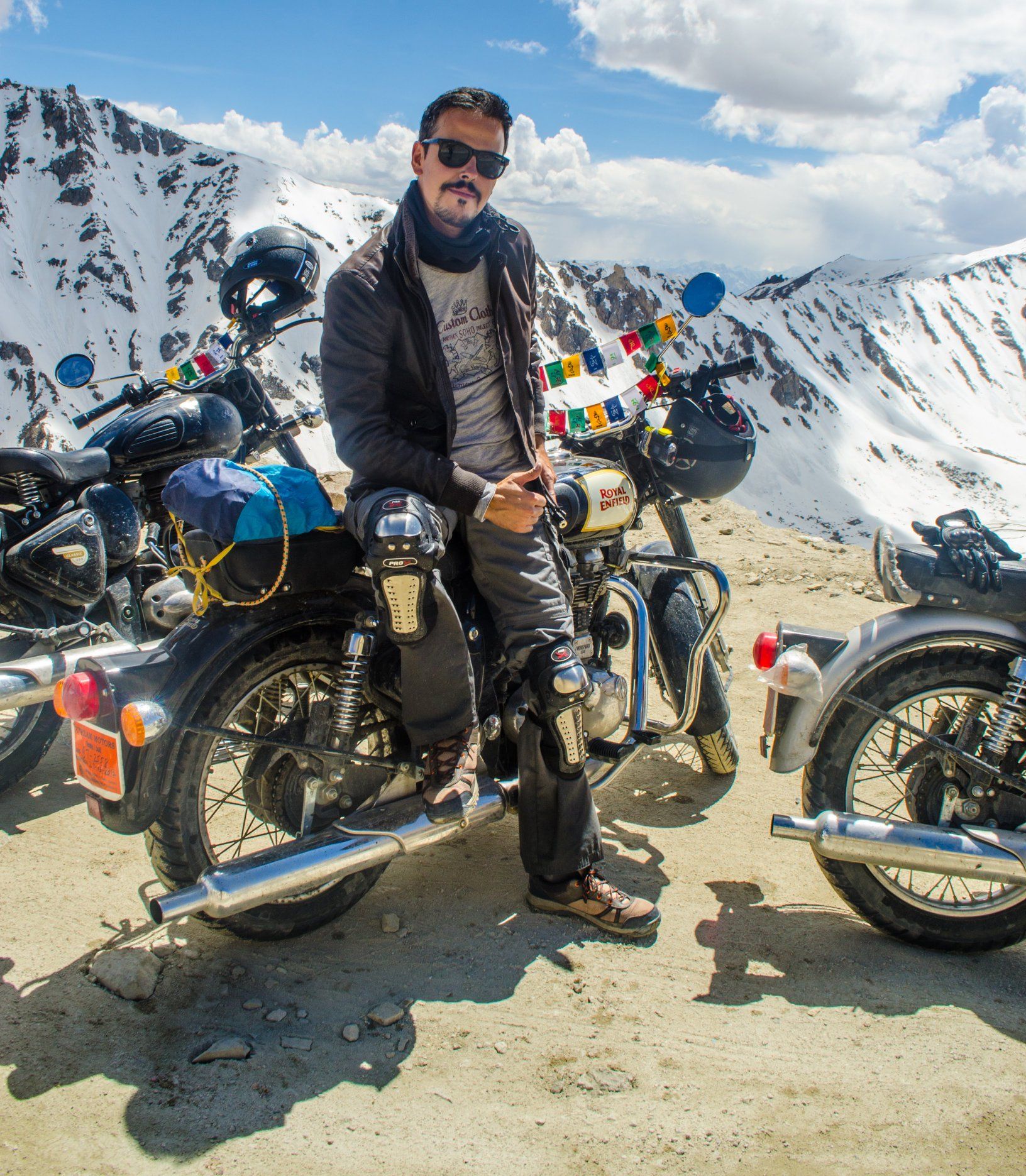 "Following our trip to Leh, we faced another challenge: climbing Tanglang La Pass, the world's second-highest pass!
We suffered headaches and fatigue during the climb up due to the increasing altitude, and the temperature dropped as we climbed higher. As we finally arrived, we took a picture of the sign (isn't it amazing?).
Amidst all my excitement, I was also exposed to altitude sickness (Altitude Membrane Sickness), and its symptoms were rather intense. People even vomited because they felt as though their heads were about to explode. We had to get down as quickly as possible.
It was a mixture of good and bad roads after Tanglang La. As we spent more time than expected resting in Pangong, the night set in, and during the dark, we had to ride through the cold darkness to reach our Leh homestay eventually.
After a harrowing journey with symptoms of AMS, it was a miracle to reach the homestay. Reaching the palace was like reaching a warm house with hot food being served. That night, we slept like babies."
The Discovery
"We spent the following day doing local sightseeing in Leh, which allowed us to acclimatize to the high altitude. During our trip, we stopped at the confluence of the Zanskar and Indus rivers, which happens to be the world's most elevated rafting location.
In addition, we also visited the Shanti Stupa, which gave an excellent view of Leh; and the Army's Hall of Fame, which provided extensive information about the battles and conflicts fought in this area.
In addition, we visited Magnetic Hill, which proved to be a hoax, but at least we had a good time trying to see if our bike could move uphill in neutral (it could not)!
The following night we traveled to the Leh market, where some tourists bought Ladakh t-shirts and - significant - Buddha flags for the bike's handlebars in order to ensure good luck!"
Suggested Read: Saheli's Exotic Birthday Celebration- A Ladakh Trip With Thrillophilia!
The Khardung La!
"Once we ascended the Khardung La, we would be riding the highest motorable road in the world, to the Nubra valley, after another night of rest and acclimatization."
We could sense Tomás' excitement and anticipation for this ride when he shared this with us.
"The road deteriorated steadily from Leh until it hardly qualified as a road anymore. Having ridden through a muddy, rocky river, we had to ride very carefully and slowly to avoid falling down.
As we climbed higher, the temperature dropped as my feet became soaked (Don't rely on Decathlon's waterproof trekking boots!) and then came the snow. The combination of these factors and the high altitude made for a very slow ascent!
We finally got to see the famous sign once we rounded the Khardung La - and eventually took a picture with it!
Fortunately, we had a great deal of time for pictures. Our route to Nubra Valley was blocked by an avalanche, which caused us to spend nearly two hours in Khardung La. We thoroughly enjoyed Khardung La's scenic views though!
Since there was an avalanche, most of Nubra was covered in darkness, thus leaving us late for camp. There wasn't any cold this time, and the temperature was quite pleasant in Nubra. Also, the camp was a bit more upscale than the one in Sarchu."
Camels Grazing In The Snow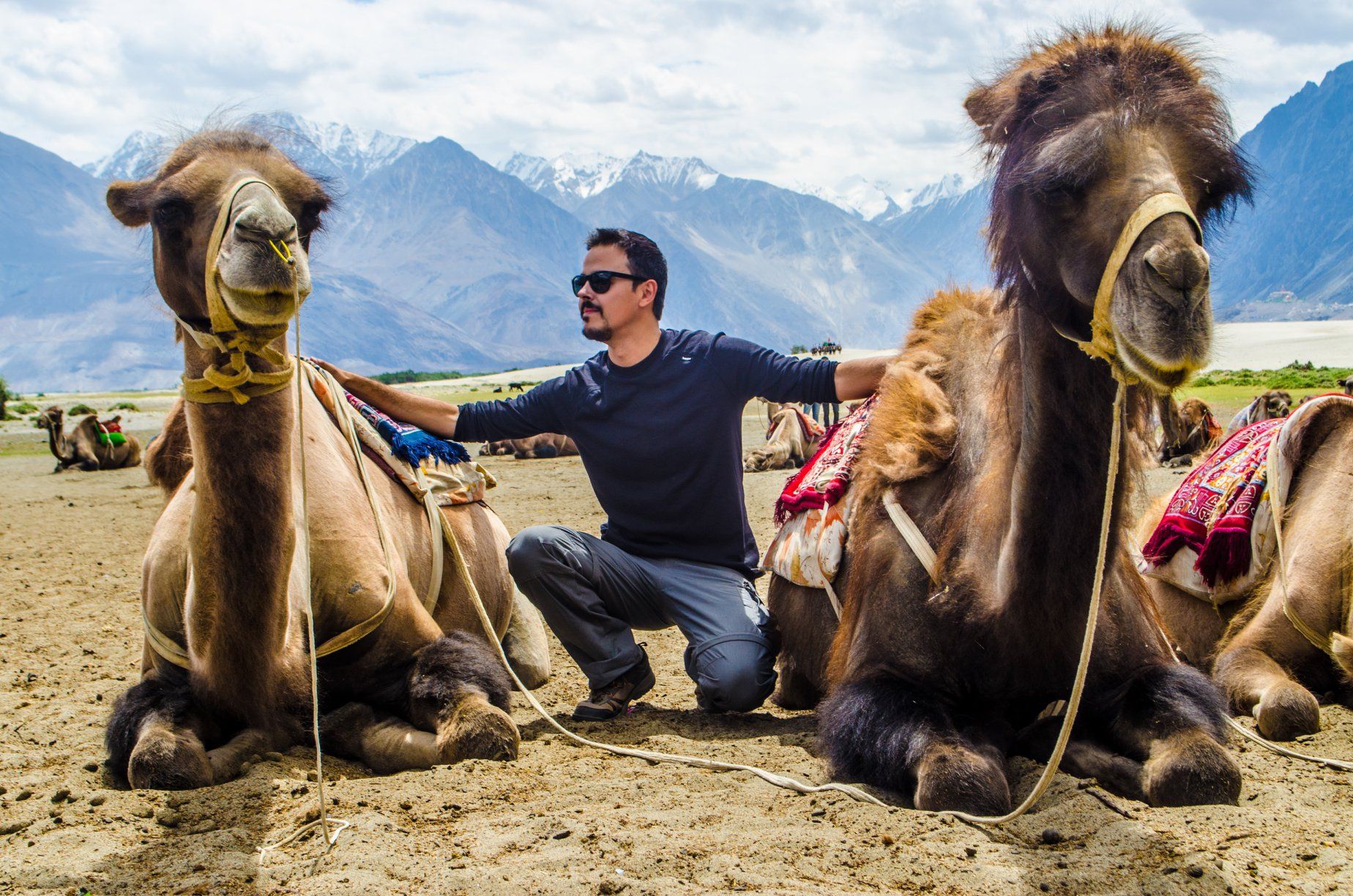 "We finally saw the Nubra Valley in daylight following a much-needed night of rest at the camp. The desert is cold and high in altitude, with double-humped camels and even dunes! Riding camels within the dunes and being surrounded by snow-capped mountains was a very surreal experience.
We were scheduled to ride to Pangong Lake the following day, but after arriving at Nubra camp the night prior, we learned that landslides may have blocked the road to Pangong. Many members of the group discussed whether or not to attempt Pangong or head back to Leh. We consulted our tour manager for advice, and he indicated that we should return. We thus had no alternative but to ride back to Leh, passing through Khardung La once again."
Check Out: Relive The Adventurous Chadar Trek Expedition Of Bhavini And Her Husband!
The Backward Ride!
"The return trip was more challenging. Extreme weather conditions accompanied by heavy rains and snow made the trip more difficult. An avalanche occurred on the way to Khardung La, and we were once again stranded for several hours. Because of the change in weather, it was much colder than it had been before, to such an extent that I was concerned about my feet and hands possibly becoming frostbitten. The heat of the bike's engine hugged me like an angel.
My first fall occurred when my bike slid underwater while crossing a water torrent and avoiding another motorcycle that was coming at me from the other direction. Though I was not hurt, the leg guard of the motorcycle sustained damage. I am convinced, however, that the guard saved my leg. Fortunately, another member of the group happened to be riding close to me at that time. He helped me to recover my bike from the water and ride out of the area.
Due to horrible weather, we did not stop in Khardung La this time and instead returned to Leh as quickly as we could, soaking wet from the night's rain, into the warm, hospitable homestay. The day was undoubtedly adventurous and exciting, even though our plans were totally thwarted."
Sight Of The Pangong Tso Lake?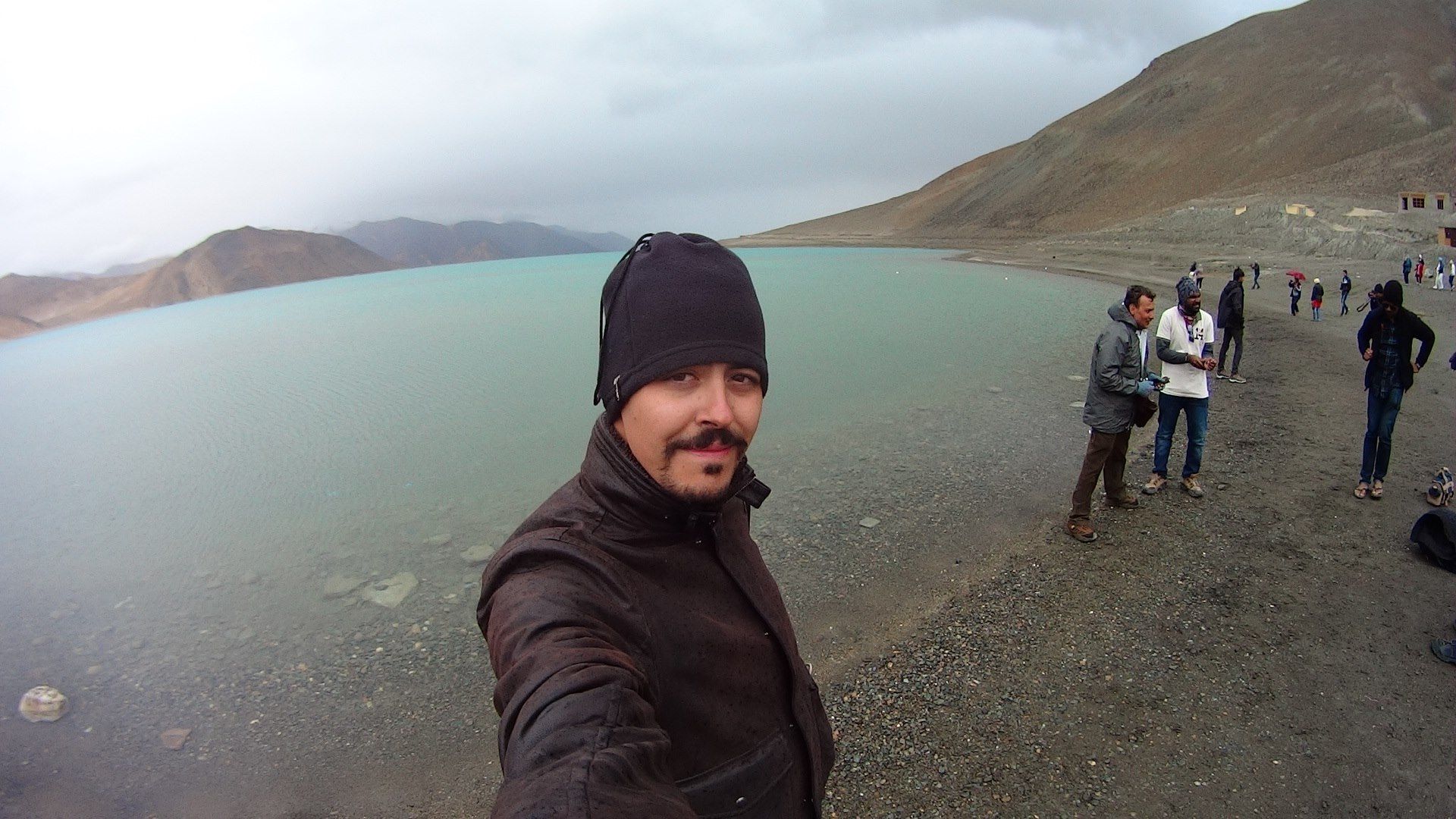 "So here we were, back in Leh, determined to travel to Pangong Tso Lake. We were informed that the road from Leh to Pangong was open, but it was in deplorable condition, particularly for motorcyclists. As a result, our tour manager arranged for a tempo minibus to ferry us to Pangong Lake and return the same day. Taking the bike would require us to spend the night in Pangong, which would extend the trip by one day. As people had already booked flights for the return, this would not be feasible.
We made the right decision in the end because the weather became increasingly bad on the way to Pangong Lake. We saw many bikers who abandoned their bikes along the roadside in order to hitch a ride back to the city of Leh!
My impression of Ladakh's tempo minibus drivers was truly admirable. Despite all the difficulties and challenges, they did their best. While other vehicles would get stuck - including SUVs - the tempos could pass. So even though we were not riding bikes, the journey to Pangong was quite exciting and adventurous!"
Also Read: Sameera, A Photographer Turned Trekker, Conquering Chadar Trek With Thrillophilia!
A Majestic Sight!
"Having reached Pangong Lake, we were blown away by its bewitching turquoise waters! One of the things I did not like about the lake was all the props of the movie "3 Idiots" surrounded by people to take photographs. As a result, it detracts from its natural beauty and makes it appear to be a theme park.
The attractions, however, were confined to a few locations. If you stroll around the lake, you will be able to see the water from a new vantage point.
As we returned to Leh after taking a late lunch break in the lake, it was time for our return journey. On the return journey, it rained heavily, and there was a lot of water in some sections of the highway, so much so that many vehicles got stuck and required assistance to move. As we returned to Leh late at night, we were exhausted from the long trip, but delighted that we had not missed the flawless Pangong lake in spite of the change of plans."
Until Next Time, Leh
"It was the end of the tour, and we would be returning from Leh to Manali the next day, again staying in Sarchu.
Again we drove through plains, but this time they were covered in rain and clouds. It was still exciting to be able to speed around for a while.
It was much easier going back up to Tanglangla this time. Acclimatizing made all the difference - no fatigue, no vomiting, no headache, no problem! It was such a dramatic change from the first time!
We arrived at our camp while the sun was still rising, so the entire trip from Leh to Sarchu felt incredibly easy. Having gained experience through the whole journey really paid off in the end. What was a challenging experience, in the beginning, turned out to be a breeze following the return flight."
Final Thoughts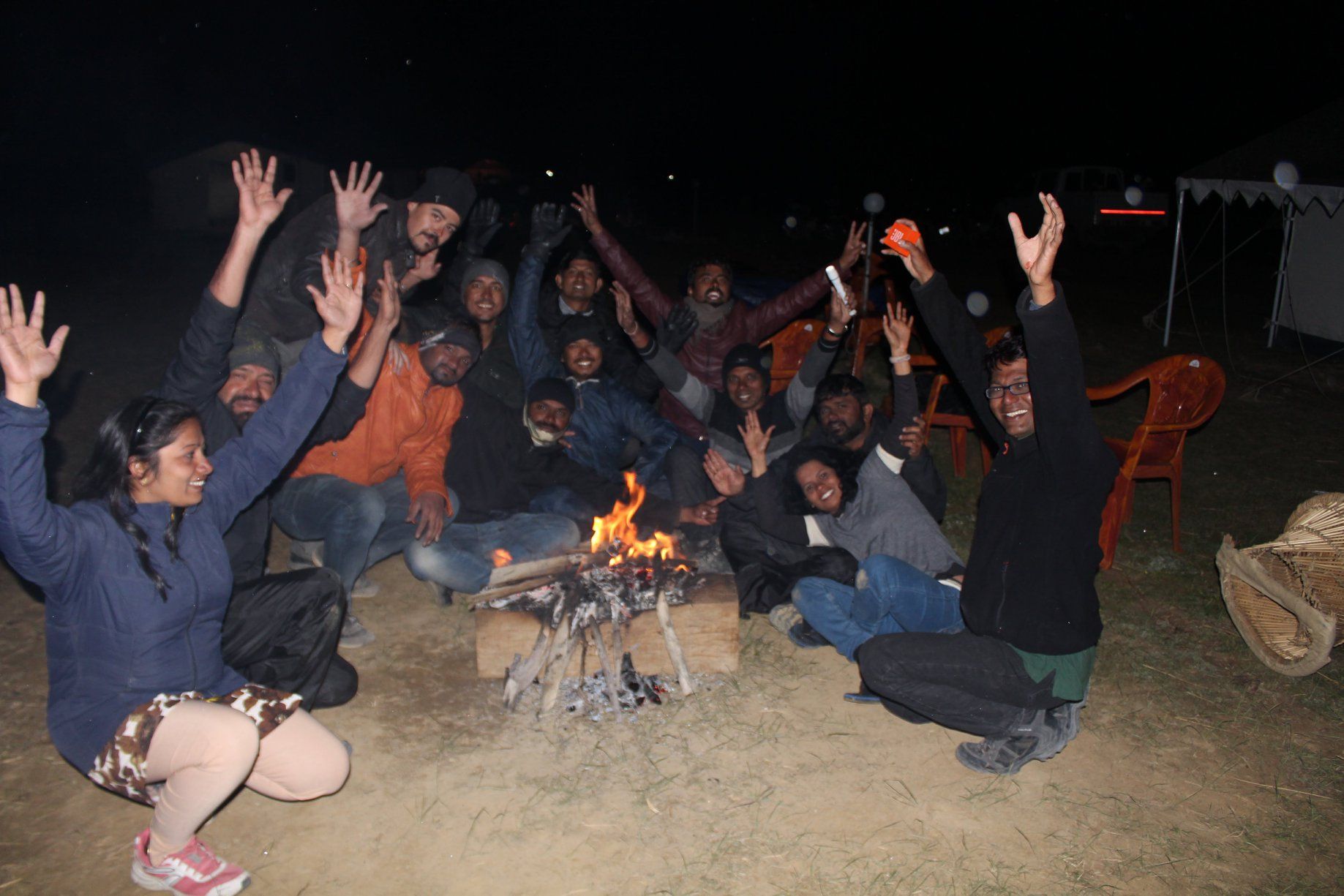 "A motorbike trip through Leh Ladakh was one of the most exciting experiences I have ever had, and I highly recommend it. This trip is not short on adventure, it is challenging enough to test your limits, and it has incredible terrain that makes you feel as if you were in a movie!
I would rate both the tour operator and Thrillophilia a four out of five. A significant advantage of booking through Thrillophilia was that there was no price discrimination against foreigners. Their simple payment procedure enabled me to book the trip easily. Despite problems between tour operators, their team handled the issue with care and maintained excellent communication channels throughout the trip.
Although road and weather conditions were frequently changing, our tour operator was able to follow the itinerary as closely as possible. Many of the requests and issues were addressed. Local tour guides handled all permits and paperwork efficiently with minimal involvement from us."
Suggested Read: Adventurous Couple Traveling Through Majestic Valleys Of Ladakh!
Are you planning a Leh-Ladakh motorbike tour? Find out what Thomas recommends before you travel!
Be prepared for anything!
Bring altitude sickness medicines for the first few days.
Protective clothing, such as gloves and boots, is an absolute necessity. Riding is very likely to cause you to get wet. I recommend wearing a raincoat.
If you have never operated a bullet bike, practice first. It is important to become familiar with the gear changes.
Wear sunblock.
If you don't possess your personal safety gear, buy it in Delhi or bring it with you. In Manali, getting safety gear is more difficult and expensive.
Bungee cords are highly useful when attaching your smaller daypack to the bike for greater convenience. You will not have access to your large backpacks until the end of the day, or maybe the following day.
Be sure to pack both warm and light clothing. Temperatures can change rapidly within a few hours.
The pillion rider and the driver should alternate turns while riding. Because I rode alone, I was very tired some days, while other riders who rode together were in better shape. When you are riding pillion, you can also take in the scenery more.
If you are traveling from Leh, you should bring a BSNL SIM card.
He shared that his next bucket list item is a trip to Killar and Kishtwar in Kashmir. In keeping with his favourite quotation,
"Show yourself as you wish to appear"
We at Thrillophilia have had the absolute pleasure of serving our Spanish client.